Marketing
&
Communication
 I
mplications
of the Gen Z Trend Study
The global trend study reveals that Gen Z are pessimistic about the future and seek meaning & purpose. They strive for emancipation and are paying more attention to the story behind the brands. Inauthenticity is one of the key red flags for Gen Z – they are paying more attention and scrutinising companies, whilst also deriving joy from buying new products. It is paramount to be aware and mindful of what role you play as a company or as an NGO and how you are connecting with and empowering Gen Z. Look within, offer new creative perspectives, deeply understand the audiences that resonate with your cause, and drive sustainable progress.
In our recently released Generation Z trend report we analysed socio-cultural changes taking place among young adults across the world, based on Glocalities surveys that we conducted between 2014 and 2022 in 20 countries. In doing so, we detected various trends that are of great importance to anyone seeking to communicate with the young generation. Over half the world's population is aged under 30. Their values, outlook on life and communication preferences will only become more and more relevant over time, making a solid working knowledge of the trends affecting them essential to growing as a brand, organisation, or movement in the future.
In this article about the marketing and communications implications we'll start with the big picture from our trend report, and after that we'll take a closer look at what these shifts mean for certain Gen Z audiences across the world. What we consider some of the most distinguishing trends among Gen Z are rising anxiety about the future, a growing sense of disillusionment, and a mounting sense of pessimism. Almost half of Gen Z agrees with the statement "I sometimes feel that the future holds nothing for me.", with an increase from 40% in 2014 to 47% in 2022. In longitudinal research spanning 20 countries across the globe based on nearly 300,000 interviews, that is a very significant increase.
This increasing sense of alienation and pessimism goes hand in hand with some key desires we see Gen Z express. They are increasingly looking for purpose, meaning, and emancipation. In essence, they feel unable to thrive, self-actualize and develop. The exact form this response takes is shaped by other factors, and due to that we see some differences across the world, but we can very clearly see the unifying trends beneath the surface, guiding these responses.
So, what are some of the general response patterns we see in Gen Z to the crisis of meaning that many of them are experiencing? How are they embarking on this search for purpose and meaning?
A direct link related to marketing and communications is that they look for meaning behind the brands they buy from. Gen Z is giving more weight to knowing where a brand comes from, and what their purpose is beyond making profit. People in upcoming economies lead this trend, but the growth in this concern is roughly equal in upcoming and advanced economies, and we see very clearly that the younger a cohort is, the more concerned with brand stories they have become. 

The main division we saw and analysed was the difference between advanced economies and upcoming economies, as defined by the IMF.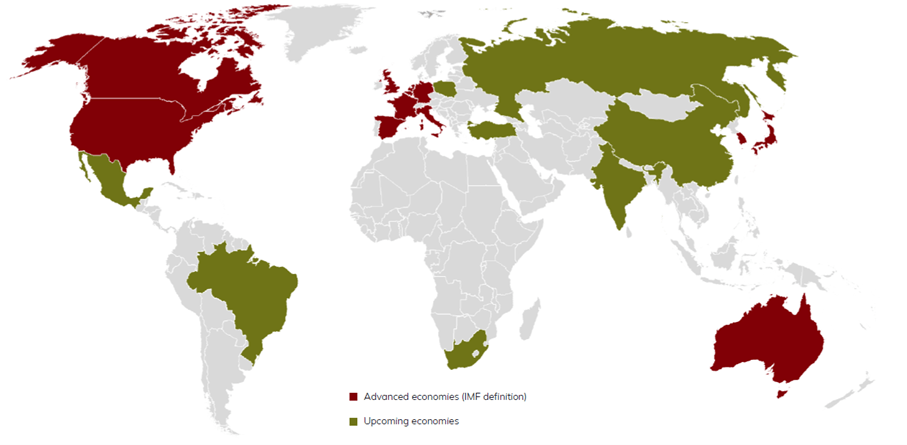 Looking at how Gen Z in upcoming economies responds is vitally important for communicators and marketeers, considering how much of the audience they make up: only ten percent of the world's youth is found in advanced economies, the remaining ninety percent is made up of people in upcoming economies. This is too often forgotten and the implications of this fact are profound. While we can see and identify global trends, it's important to understand that responses to these trends are varied and can change based on people's socio-cultural environment. What trends do we see in young adults in these growing markets?
Increased desire for instant gratification

Across upcoming economies we see an increasing desire for instant gratification through spending. They're finding more joy in buying new things, and more and more agree with the statement "I feel most happy when I can spend money". 
This coincides with another trend that sets Gen Z in upcoming economies apart from Gen Z in advanced economies – a rise in hedonism, the feeling that the most important goal is to be happy. Here upcoming economies are catching up rapidly. While still not quite at the same level as their counterparts in advanced economies, they are now much more aligned on this than a mere decade ago. 

A part of this can be attributed to increased wealth and digital interconnectedness, but it also matches with other trends we're seeing such as the dwindling popularity of traditional values in generally conservative and patriarchal societies. The increasing prevalence of hedonism whilst traditional taboos in society are becoming less prevalent is reminiscent of the 70's and 80's in the West. Young people in upcoming economies increasingly look for new ways to define themselves, set themselves apart, and fulfil themselves, and hedonism combined with a focus on openness and diversity is one avenue to pursue that goal.
Rising desire for instant gratification: a siren call that may lead to disaster

For organisations and companies it may be tempting to try to capitalise on the increased desire for instant gratification and consumerism in upcoming economies, but it is highly important to keep a sustainable perspective in mind – if people in upcoming economies increase their consumption of goods and resources in a way that mirrors consumption in advanced economies, that would spell disaster for the world in an ecological sense. While organisations in advanced economies need to focus on the transitioning to sustainable and regenerative practices and on reshaping unsustainable consumption to circular and responsible consumption, organisations in upcoming economies need to focus on shaping sustainable consumption in its nascency. Many of the unsustainable habits and systems that are embedded in consumption habits in advanced economies have not yet taken hold there yet, so while advanced economies should transform unsustainable models to circular practices they should also take care not to contribute to building unsustainable models elsewhere.
Vital initiatives contributing to sustainable consumption in upcoming economies, most notably Asia (due to the massive population), revolve around informing people about the importance of their consumer habits, increasing supply chain transparency so that informed consumers can make choices aligning with their values, and marketing sustainable alternatives to these huge audiences. And basically companies and governments need to take their responsibility and drive the transition to a sustainable future. What we at Glocalities see as our part in this process is to help companies and organisations to connect and communicate with these audiences on a deeper level, by doing research into the values, their attitudes and orientations towards sustainability. Identifying target audiences, preferred methods of communication, beneficial narratives and tone of voice, and researching attitudes to help ensure that any initiative (whether that be a campaign to change habits and minds, a new product or brand launch, or any other project) launched has a solid understanding of what they'll find and who they're talking to.


Increased autonomy: breaking free

Alongside this search for meaning through gratification we also see that the loosening grip of certain social hierarchies makes room for people to find themselves and take more control. As patriarchy loses support and gender role flexibility gains more traction people have more room to make their own decisions independent of certain societal pressures. It is important to be aware and mindful as company what role you play in this field – how much are you enforcing stereotypes and how much are you connecting with younger audiences, supporting and empowering them. The impact ranges from the values the brand stands for, what it promotes and of course what is happening in the company internally - - as nothing rubs off the younger audiences more than hypocrisy.
Importance of art: a search for authenticity and connection?

Another trend we see in upcoming economies especially is an increased appreciation for art and creativity.
This fits easily within the framework of a search for a deeper meaning, but another aspect that could explain this is that in a world where Gen Z feels increasingly alienated, art offers a creative way to relate, and to find a deeper connections and experiences with yourself, with others and the world at large.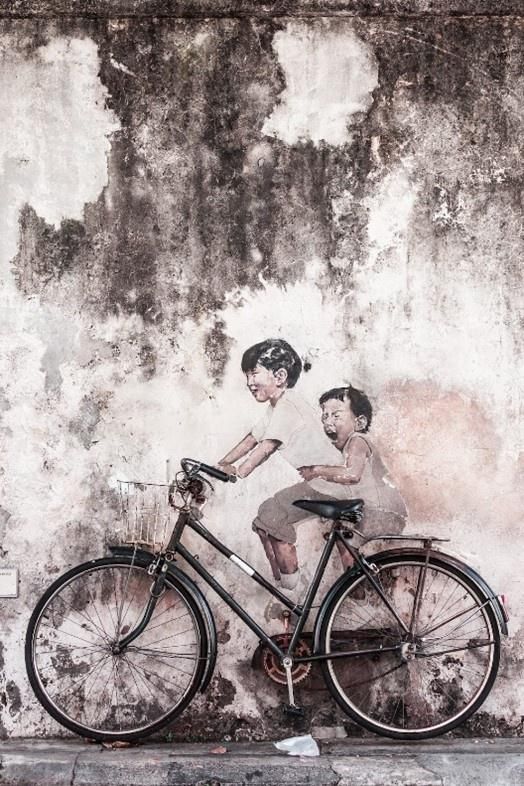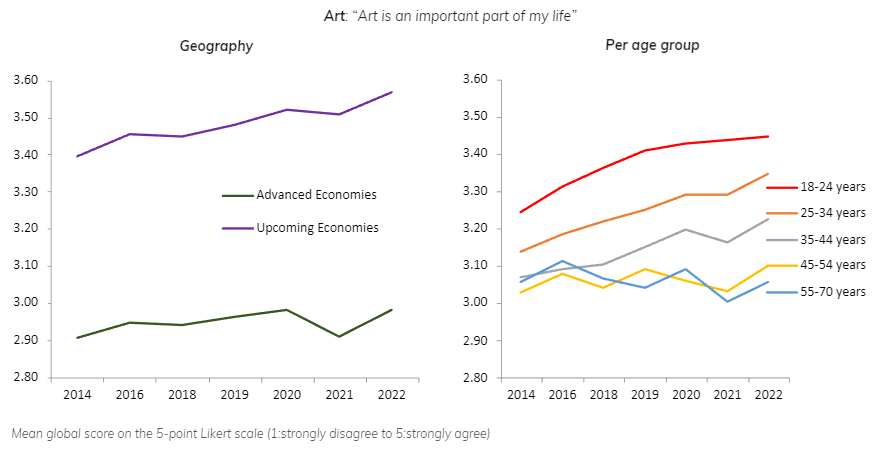 Communicating with Gen Z
At Glocalities we use a number of metrics to measure how people would like to be communicated and engaged with: what tone of voice they appreciate, what kind of narratives resonate with them, and also what kind of communication fits with them. One of the tools we use for this is to ask them about universal archetypes, like the Hero, the Sage, the Lover, and more. It's not necessarily about which they feel most matches themselves, but about which ones they find appealing and inspiring.
When we measure this in Gen Z, we see that compared to older generations they are significantly more receptive to the Rebel archetype, which stands for tearing down what is broken and seeking independence. Gen Z is also more partial to the Creator, which embodies innovation, visions for a better future, creativity and greatly values authenticity. The last archetype that resonates especially strongly with them is the Sage, which is about knowledge above all else. The Sage archetype is about science and using intelligence and analytical thinking to distinguish truth from lies and to avoid being misled or lied to.
It is especially the latter two, Creator and Sage, that can be tapped into for communication purposes, since those are the most popular in absolute terms, in addition to the Rebel being generally less well regarded in upcoming economies as a whole and among the older generations there. The Rebel is often an outcast there, so an organisation or brand attempting to appeal and lean into this non-conformity will have a hard time becoming accepted or respected in upcoming economies.
To appeal to Gen Z, communication should be authentic and based on expertise and knowledge. Gen Z is the most highly educated generation the world has ever seen, the valuable knowledge and trust in science to help them understand the world. Acknowledge that and use it to speak to them in ways that they feel matter.
An example of a frontrunner initiative that combines the approach of the Creator and Sage, appeals to Gen Z's love of art and expression and embodies sustainable values throughout is Wonderfruit, a festival that combines music and art installations with inspirational speakers and experts to inform and excite people about sustainable topics while connecting with nature and espousing feelings of togetherness. As they educate and inspire, they also make sure to practice what they preach – stages are built from natural materials, food is grown locally, and single-use plastic is banned.
Of course, a purpose-built festival for these issues will have an easier time connecting to these values than a product or brand that has already been designed and is looking to launch into these markets, but through analysis of a target market's values and attitudes we at Glocalities help formulate these entries in ways that best connect with the audience.
When it comes to persuasion tactics, Disrupt & Reframe resonates with Generation Z. Disrupt & Reframe encourages people to look at something from a different perspective, which also connects very well to the Sage and Creator archetypes. It doesn't invalidate people's previous experience with a topic, but it encourages people to apply their analytical thinking in creative ways, be open to additional information and find new ways and solutions.
So, what does this mean for content and messaging? It means that fundamentally messaging has to be authentic and creative. A consistent theme throughout this research is that Gen Z is looking for meaning in a world that sometimes feels hopeless to them. We see it in their desire to know a brand's origin, we see it in their increasing appreciation for spirituality, we see it in how they consider art and creativity more important, and in how they are becoming increasingly open minded, emancipated and tolerant.
Young adults want to know the story behind a brand, they want truth in a world full of misinformation, and they want the world to be a better place in which they can flourish. They value freedom, self-expression, and knowledge. Draw them in with your true story, bring them along on your journey in creative ways, and make them feel it is meaningful what you do and where you stand for. Gen Z is looking for purpose and meaning, and if your organisation can truly deliver on that front, you can be the brand that they'll listen to, choose over others, and join on their journey.
The trends mentioned in this article emerged from large-scale international Glocalities research in 7 waves of fieldwork since 2014. For applying these findings in practice we advise contextualizing and fine-tuning the insights for Gen Z audiences that are relevant to your brand and the cultures and markets in which you are active. Being such an immense and culturally diverse generation, spread across the world, there are so many opportunities for brands and activists at NGOs to resonate with the best-fitting Gen Z audiences for their cause. It only takes the willingness and ability to dive deeper and get to know their drivers, worries and ambitions. Thank you for your time reading this article, and we would be glad to help you on your journey with a deep dive into the Glocalities database.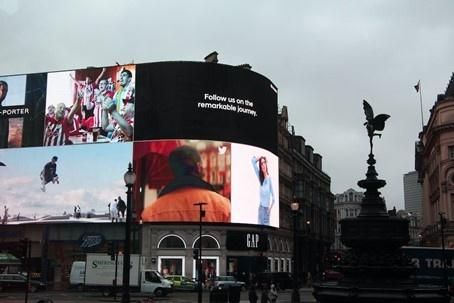 You can find more information and a video about the trend report at the download page: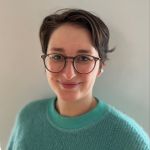 Mash Muravina
This email address is being protected from spambots. You need JavaScript enabled to view it.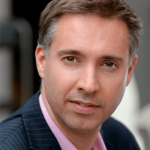 Martijn Lampert
This email address is being protected from spambots. You need JavaScript enabled to view it.
+31 20 589 83 70