Values Segmentation - Our Research Methodology 
Global Survey
The Glocalities research program covers 52 countries and territories, based on more than 440,000 interviews. In our first international wave of fieldwork in 2014 we started with 20 countries and since then the number of countries that we cover has gradually expanded. Every year we add new countries to the research program and database. For all these countries we have the Glocalities value segmentation model available. Taken together, the countries included represent more than 65% of the world population and 85% of the world economy.
Glocalities coverage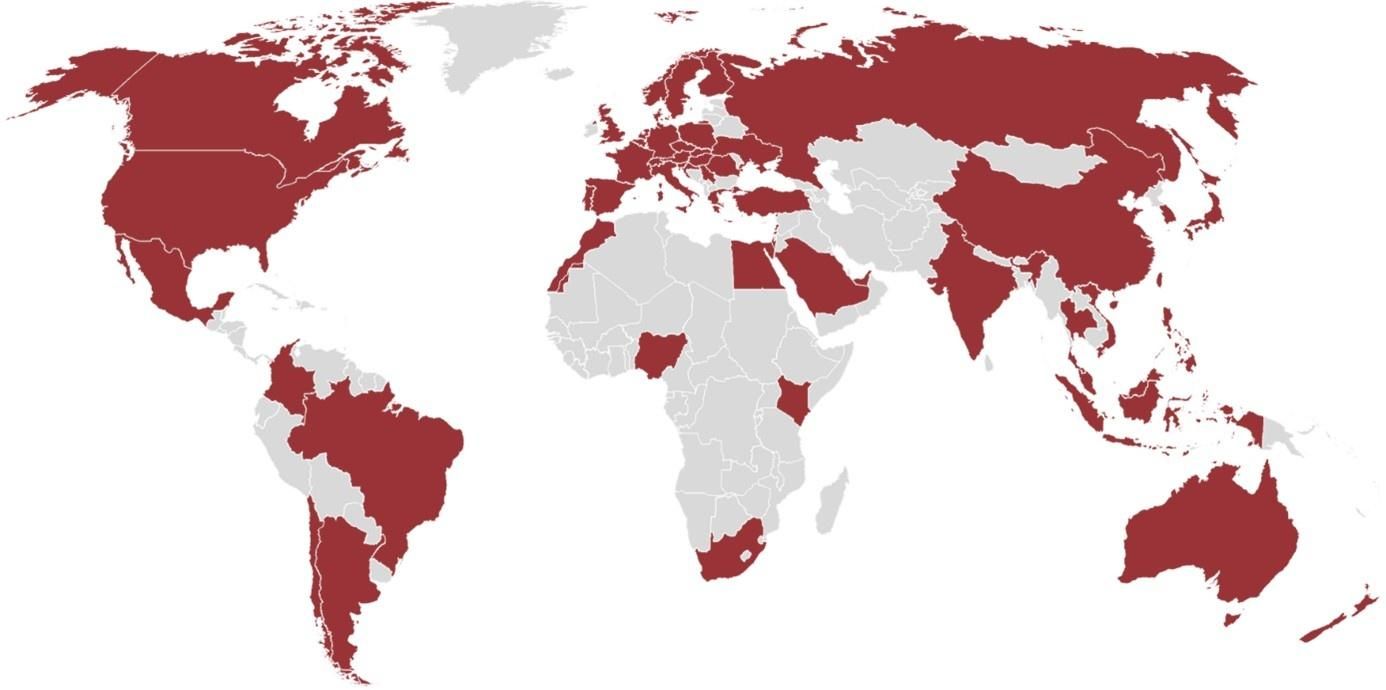 The covered countries and territories: Argentina, Australia, Austria, Belgium, Brazil, Canada, Chile, China, Colombia, Croatia, Czechia, Denmark, Egypt, Finland, France, Germany, Hong Kong, Hungary, India, Indonesia, Israel, Italy, Japan, Kenya, Lebanon, Malaysia, Mexico, Morocco, Netherlands, New Zealand, Nigeria, Norway, Philippines, Poland, Portugal, Romania, Russia, Saudi Arabia, Serbia, South Africa, South Korea, Spain, Sweden, Switzerland, Taiwan, Thailand, Turkey, Ukraine, United Arab Emirates, United Kingdom, USA, Vietnam.
Each year we conduct an extensive international Glocalities survey in at least 22 countries to track trends and facilitate the continuous development of the program. The survey is conducted in 2 phases. 
In each country an average of 2,000 people between the ages of 18 and 70 years participate in the first phase of the online survey. The survey is conducted via the XS survey platform of our sister company Motivaction. A few days after completing the first phase of the survey, we invite the participants to take part in a second survey, in which an average of 1,000 people per country participate. The respondents complete the survey via desktop computers, laptops, tablets and smartphones and receive an incentive for participating. The questionnaire is conducted in the main national language(s) and is translated by professional translators from the English source questionnaire.
Prior to the data collection, we set quotas for age, education, gender, and region, based on census data per country. After collection of the data we weigh the Glocalities samples based on national census figures.
We conduct our surveys according to the highest research standards that include IP checks and strict control mechanisms for fraudulent respondents. We conform to the highest standards for cross-cultural values research by applying standardization to correct for cultural bias (as people from specific countries tend to agree/disagree more often with values statements in general).
Variables in Our Database
In the international Glocalities surveys, we have built on the latest insights from marketing research, sociology, social psychology, and cross-cultural values studies.
The Glocalities database consists of over 2,500 independent variables. Based on these data we provide advanced target audience research.
Click on the categories below to discover the data we have available.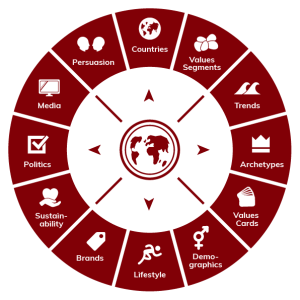 Values Segmentation Model
Glocalities offers a deep understanding of values, cultures, preferences and consumer behavior around the globe. The Glocalities survey provides a sound basis to construct the robust and sophisticated Glocalities segmentation model. It is based on the premise that people's behavior and opinions are shaped by value orientations that are deeply embedded within persons and society. The Glocalities typology enables organizations to align with citizens and consumers more effectively and resonate with their basic values drivers.
The Glocalities segmentation model was established in 2013 and is based on over 25 years of experience with values-based segmentation. In 2013, when we prepared the first Glocalities survey, we conducted international qualitative research and consulted cross-cultural experts to identify a list of key items and formulate hypotheses about international values segments. In this process we also used previously conducted international survey research. In 2014, we tested and established the Glocalities values segmentation model based on the data of the first wave of Glocalities fieldwork in 20 countries. We constructed the Glocalities segmentation model using latent class analysis, which resulted in 5 values segments. In later years of the research, we validated the Glocalities segmentation model further using cross-cultural insights and data from reputable international researchers of culture, values and psychology, such as Inglehart, Schwartz, Hofstede, and Trompenaars. In 2018 we evaluated and updated the Glocalities segmentation model based on the first 3 waves of fieldwork.
The Glocalities values segmentation model distinguishes 5 values segments generated by cluster analysis (latent class analysis) on a set of values statements in the survey. We plot the five segments on two axes. The horizontal axis shows the extent to which people are open to change and innovation, while the vertical axis shows the extent to which people value freedom and independence.
We have identified the following segments among the international population:
Glocalities segments worldwide