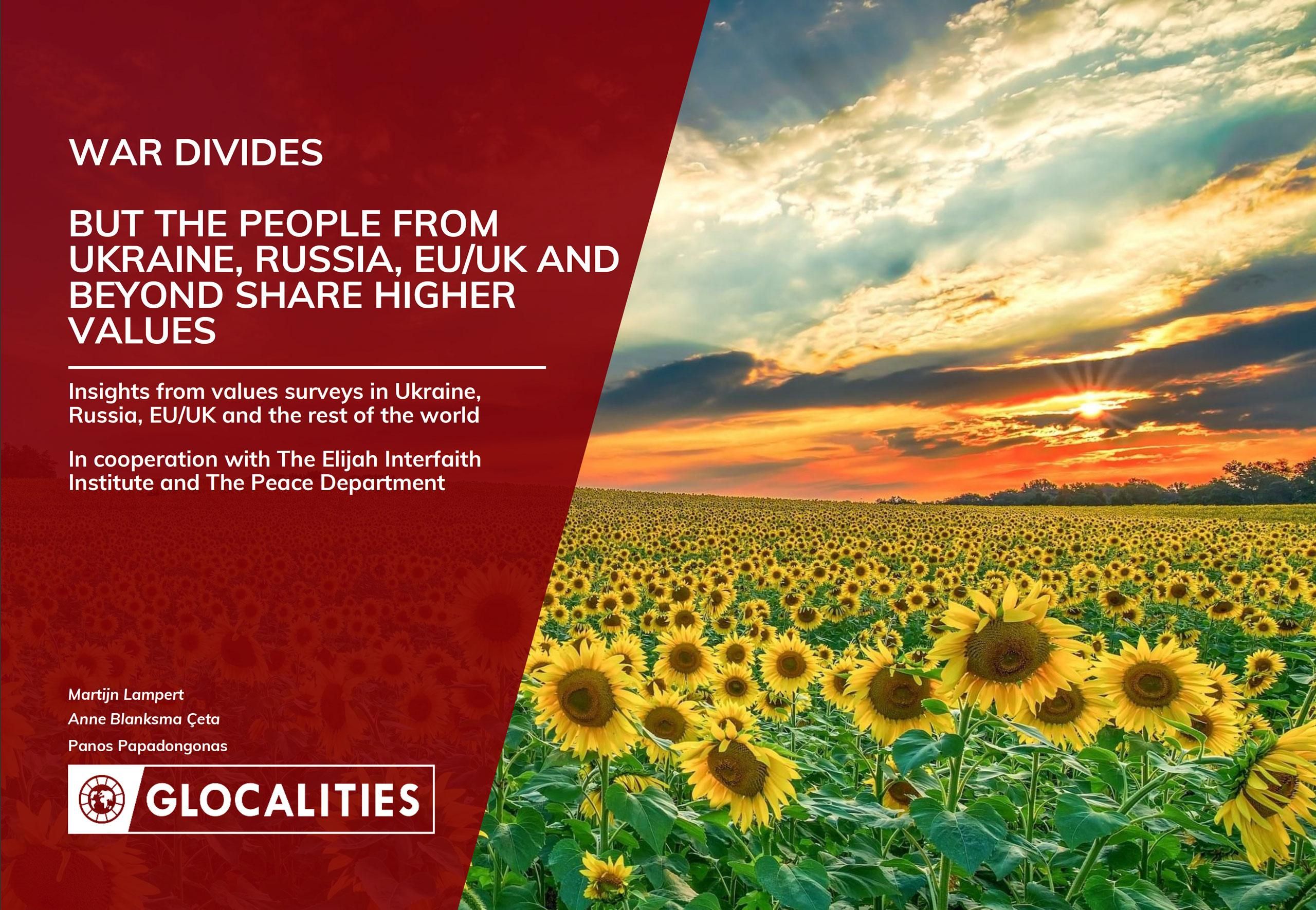 Survey analysis in contribution to visit of faith leaders to Ukraine on April 12
Survey in cooperation with faith leaders reveals the highest values that are shared by the people of Ukraine, Russia, EU/UK and beyond
What unites people is often forgotten in times of war and division
The highest values shared by the people from Ukraine, Russia and Europe are: Caring, Friendship, Health, Freedom and Wisdom. These values reflect our common humanity.
When people feel that their world is falling apart, they especially feel alone and isolated, searching for meaning, togetherness and hope
The results emphasize the importance of the visit of the world's faith leaders to Ukraine
This international values survey analysis is released by Glocalities in collaboration with the Elijah Interfaith Institute and Peace Department. The research report is based on interviews with 23,647 people from Ukraine, Russia and EU/UK that were conducted in the first quarter of 2020, and also includes global research findings from our 2021 survey. The results are released in advance of the visit of the leaders's of World Faiths to Ukraine on April 12 (see below for more information).
Highlights from the survey report
Health (63%), Caring (63%),Freedom (60%) Friendship (60%) and Wisdom (57%) are the top 5 and highest scoring values cards globally. In Ukraine, Russia, EU/UK and worldwide the same values cards are in the top 5. War directly violates these higher values, de-humanizes the other, pulls people down, inflicts trauma and prevents them from developing, connecting and flourishing.
People globally who feel that their world is falling apart say much more often than others that they wonder what the meaning of life really is. 68% of them wonder about the meaning of life, compared to only 32% in the rest of the population. They feel all alone (59% of them say this, compared to only 17% among the rest) and  say that they try to reach a higher state of consciousness (56% versus 38% among others). Refugees whose world has literally fallen to pieces not only need material support, food, shelter and sanitation to survive, but also moral, psychological and spiritual support.
The research indicates that the war in Ukraine not only goes against the people of Ukraine, inflicting harm, death and destruction, but also violates the highest values that are hold dearest by the people of Ukraine, Russia, Europe and by people from around the world.
The full survey report can be downloaded at the side of this page and below you find the information about the visit to Ukraine by the world's faith leaders.
More information about the survey: Martijn Lampert, Research Director and Co-Founder of Glocalities: This email address is being protected from spambots. You need JavaScript enabled to view it.
Leaders of World's Faiths to Visit Ukraine, April 12th 
The historic mission unites leaders of many faiths to demonstrate friendship and solidarity with the people of Ukraine, and all who have been impacted by the war.
A high-level delegation of religious leaders will pay a historic visit to refugee camps and the city of Chernivtsi, Ukraine on 12th April. Participants include: the Archbishop of Canterbury (Emeritus), Rowan Williams (Anglican, UK), Rabbi Jonathan Wittenberg (Jewish, UK), Grand Mufti (Emeritus) Mustafa Ceric (Muslim, Bosnia), Archbishop Nikitas Lulias (Orthodox Archbishop of the UK), Grand Imam Yahya Pallavacini (Muslim, Italy), Br. Massimo Fusarelli (Catholic Minister General, Franciscan Order of Friars, Italy), Swami Sarvapriyananda (Hindu, India/USA), Abbess Sister Giác Nghiêm, (Buddhist, France), and many others (full list on next page).
The leaders will visit various sites in the Chernivtsi region to show friendship, offer comfort, and share experiences of maintaining spiritual well-being under distressing circumstances.
As part of this visit, a public event will be held in the city's main theater--with homage to the bombing of Mariupol-- where the faith leaders will address refugees and other citizens impacted by war. Their words will be accompanied by live musical interludes from faith institutions outside the Ukraine, testimonies from refugees, and interactions with audience members. This will be the first public event permitted at the theater since the war began.
The messages of the event are informed by a Glocalities report, in which nearly 25000 people were interviewed across the EU, Russia and Ukraine on their values in 2020.  The report, published today, shows time and again that in all three spaces, people's highest aspirational values were identical. Martijn Lampert, the Research Director of Glocalities, said 'we have revealed by empirical means that caring, friendship and freedom were consistently among the top values of responders.'  The mission has been framed by this research and aims to demonstrate by example that even in times of war and division we have to keep appealing to the highest values of humanity that unite us
The event is the co-initiative of James Sternlicht, founder of the Peace Department and Rabbi Alon Goshen-Gottstein, Founder and Executive Director of the Elijah Interfaith Institute and supported and inspired by Glocalities.
Said James Sternlicht, "In this moment, in a world gripped by profound darkness, we must unite to heal humanity."
Said Rabbi Goshen-Gottstein, "To the best of my knowledge, this is the first time ever that an interfaith delegation has undertaken a mission of friendship and solidarity, in entering a country at war. This is all the more remarkable considering the high level of religious representatives.".
The event can be accessed via live video streaming on a page that will be available on the day of the event, at www.FaithinUkraine.com/Stream
Members of the Delegation Will Include:
Archbishop Rowan Williams (Anglican, UK), Archbishop of Canterbury Emeritus, Representing the Present Archbishop of Canterbury.

Metropolitan Nikitas Lulias (Greek Orthodox, UK), Greek Orthodox Archbishop of Great Britain under the Ecumenical Patriarchate of Constantinople, Representing Orthodox Patriarch Bartholomew

Rabbi Jonathan Wittenberg (Jewish, UK), President of the Council of Christians and Jews, and Senior Rabbi of Masorti Judaism

Br. Massimo Fusarelli (Catholic, Italy), Minister General of the Franciscan Order of Friars Minor

Rabbi Daniel Kohn (Jewish, Israel), Chief Rabbi, Bat-Ayin

Grand Mufti Mustafa Ceric (Muslim, Bosnia), Emeritus Grand Mufti of Bosnia, and present Head of the world Bosniak Congress

Grand Imam Yahya Pallavacini (Muslim, Italy), President and Imam of the Islamic Religious Community of Italy and advisor on Islam to Italy's Ministry of Interior, Ministry of Foreign Affairs and Ministry of Education

Sister Giác Nghiêm, (Buddhist, France), Abbess of Maison de l'Inspir (of Plum Village)

Swami Sarvapriyananda (Hindu, USA), Spiritual Leader of the Vedanta Society of New York

Sister Maureen Goodman (Brahma Kumari, UK), International Centre of the Brahma Kumaris and the Living Values Educational Initiative

Swami Rameshwarananda (Hindu, Spain), President of the Phi School of Vedanta

Rabbi Alon Goshen-Gottstein (Jewish, Israel), Founder and Executive Director of the Elijah Interfaith Institute
About the Peace Department: The Peace Department is a US based non-profit that pulls from deep networks across the realms of business, impact investment, public policy, science, faith, and philanthropy. It aims to pursue the art of the possible, using systems thinking and comprehensive design expertise to unite powerful actors behind shared works to build a sustainable and compassionate future that benefits all of humanity. For more information, please visit: https://peacedepartment.global
About the Elijah Interfaith Institute: The Elijah Interfaith Institute provides a strong foundation of global leadership, from which this initiative emerges.
Founded 26 years ago, the Elijah Interfaith Institute is a nonprofit, international, UNESCO-sponsored interfaith organization which is renowned for bringing together world religious leaders and renowned scholars from across the world. Its unique programming generates interfaith dialogue at the highest levels through public events, research initiatives, conferences, and educational programmes.
Elijah's Board of World Religious Leaders is the highest-ranking active forum, with its global members meeting biennially, and collaborating regularly for nearly 20 years. As a result, it has become world-renowned for its leadership in promoting friendship and solidarity across faiths and nations. For more information, please visit: www.elijah-interfaith.org
About Glocalities:  Glocalities is an Amsterdam-based international research agency that specializes in global insights based on values, lifestyle and culture. The Glocalities research program that started in 2014 now covers 35 countries. NGOs, companies and the public sector use Glocalities insights to connect with audiences, based on a deep understanding of trends, people and cultures. In the international Glocalities surveys conducted since 2014, we have incorporated several research instruments that provide a deeper understanding of people, such as values segments and trends. These instruments make it possible to obtain a holistic view of groups of people and gain deeper knowledge of their drivers and behaviors. Free reports on a multitude of topics are available on our website. For more information, visit www.glocalities.com
About the survey: The survey in Ukraine, Russia and Europe is based on online interviews with 23,647 people in the first quarter of 2020, with representative samples of 1,406 respondents from Ukraine, 2,216 respondents in Russia and 20,025 respondents from Europe. The extra analysis of people who feel their world is falling apart is based on the Glocalities 2021 survey among 22,370 people from 21 countries, held in the first quarter of 2021. Prior to the data collection quotas for age, education, gender and region were set up, based on reference data for each of these countries. The Glocalities samples are weighted according to census data with respect to age, gender, region and education. 
---
Author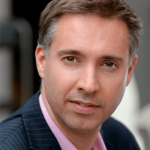 Martijn Lampert
This email address is being protected from spambots. You need JavaScript enabled to view it.
+31 20 589 83 70