Successful Global Marketing Campaigns
Successful Market Entry Strategies: A Structural Approach
Successful market entry strategies require a structural approach. In this article, we are going to highlight the critical steps to asses the potential of a specific market and how to base your market expansion decisions on solid marketing campaign insights.
Glocalities has developed a structural approach to reducing the risk of making the wrong decision and investing time and money in a market that doesn't lead to your sales goals. We have identified a five-step approach to guide you from market identification, market sizing and route to market to the end goal of growing that market with maximum return on investment.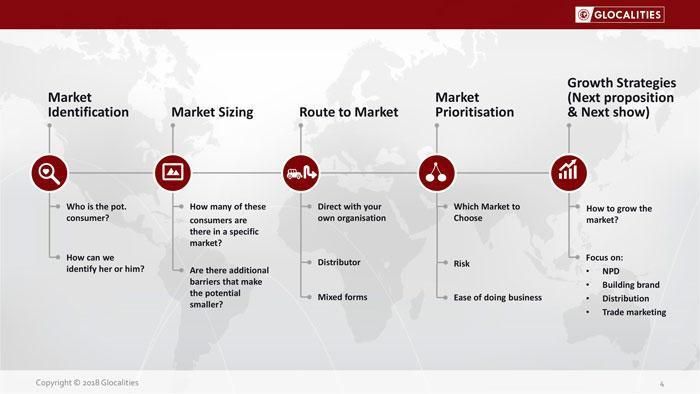 Step 1: Market identification
The critical question, to begin with, is: is there a market for your product(s) or service(s) and what is the size of that market? Assessing the market with the right potential requires having clarity about your target audience.
To ensure that you are marketing your products to the right potential buyers, we propose to use a combination of psychographic, motivational, product usage and demographic characteristics. By combining all those marketing campaign insights, it's possible to get a deep understanding of your audience. Not only who they are, but also what they value, and what motivates them to buy specific products or services. Based on these marketing campaign insights, Glocalities has developed an extensive database to identify your ideal target audience. 
Step 2: Market sizing
Once we have identified your target audience for a specific geographical area, we can analyze the size of your potential market. Based on this insight you'll be able to define if the size of your market justifies the marketing investments or not.
By taking into account cultural differences, market structures, and the positioning strategy of your competition we can define the market potential for your product(s) or service(s).
Step 3: Route to market
After the target audience has been identified and the size of the potential market has been quantified, clear market entry strategies needs to be formulated. In this step, some of the main decisions that need to be taken are whether to directly or indirectly enter the new market and will this be done by using distributors, agents or representatives for example. Alternatively, the best strategy might be to use a mixture of a direct and indirect approach.
A word of caution: the most evident and action-oriented approach to start working with the most apparent distributor may cost you a lot of wasted time and money, and at the same time lead to missed opportunities. Therefore, partner with distributors when you have absolute clarity that this is your ideal partner to reach your specific audience.
If cross-border e-commerce platforms would be the ideal way to reach your consumers, Glocalities can unlock psychographic characteristics and persuasion tactics to craft your most effective marketing messages and design the perfect webshop to maximize consumer conversions in your new market.
Step 4: Market Prioritisation
Before you can choose which market to enter, it is also imperative to evaluate the risks involved, the ease of doing business in that market and the resources you'll need for a successful market entry. Partnering with the right intermediary to enter your new market will save you a lot of time and money.
The most obvious intermediary may not always be the best choice. For example, if the ideal distributors are working with your competition, or are too large, they may not be the perfect fit to offer you the competitive advantage you'll need to enter this new market successfully.
In practice, working with an ideal distributor or agents in a smaller market may offer you more potential than partnering with the largest distributor who is also facilitating your biggest competitors.
By combining the insights about your ideal audience, the size of the market, the easiness to reach your consumers and the competitive advantage in a specific market, we can help you to reduce risks and increase the effectiveness of your market spend.
Glocalities international values-based research program has taught us a lot about cultural differences and armed with that knowledge you'll be able to evaluate the potential of your product(s) in a specific market. Our new World of Glocalities app unlocks the potential of audiences in 27 countries.
 Step 5: Growth Strategies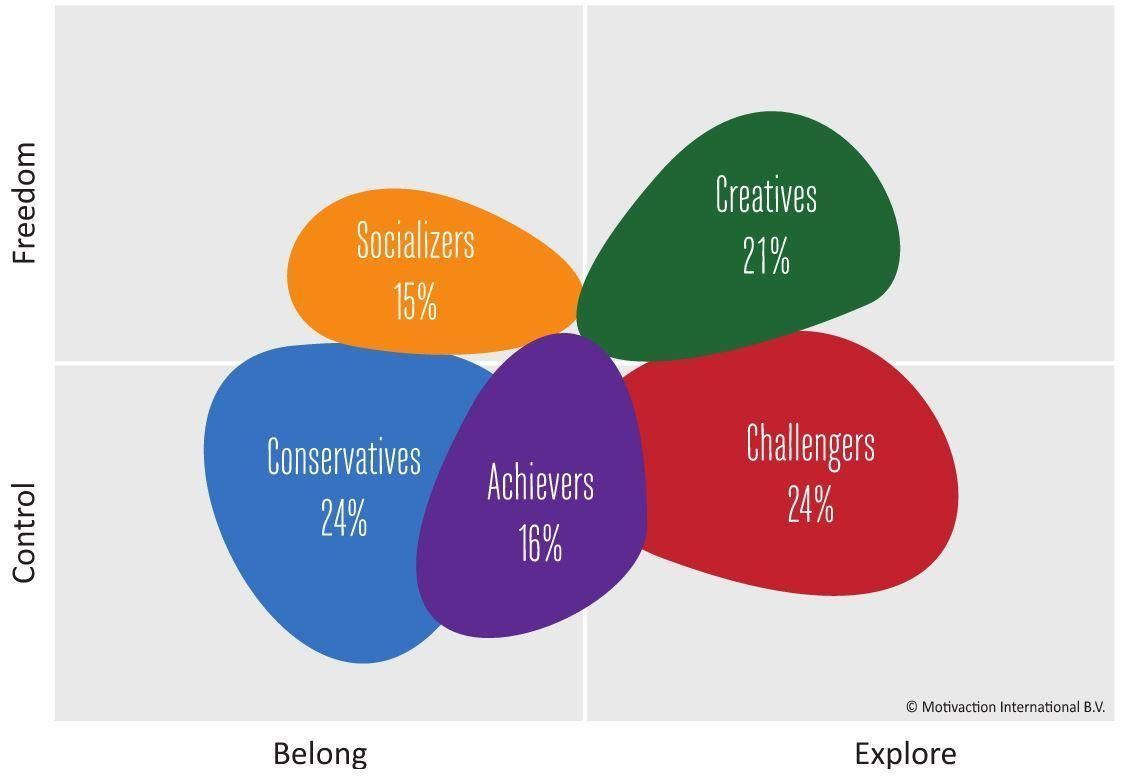 As soon as you've identified the profile and market size of your ideal audience, you'll need to define how to reach that audience. In other words, work on communication that will resonate with this audience. And choose the most effective media and distribution trajectories.
A deep understanding of cultural differences in your geographically defined target market is a prerequisite not only for successful market entry strategies and long-term growth but also for building successful global marketing campaigns.
Conclusion
A structural approach to your market entry will not only save you a lot of time and money but also avoid a considerable amount of headaches. Without a systematic step by step approach, you risk choosing a market with less potential and contract intermediaries whose sales results won't justify your marketing spend.
The Glocalities database and marketing program can help you build successful global marketing campaigns by answering such questions: which market should we select, how can we differentiate our offer from competitors, who are our competitors, which intermediaries are the best fit to reach our sales goals, how can we reduce risks involved in entering this new market, what product and service lines can we roll out successfully and in what timeframe?
---
Author
Martin Schiere
This email address is being protected from spambots. You need JavaScript enabled to view it.
+31 20 58 98 376