Martijn Lampert joins panel discussion about Digital Democracy
During the Step into a Better World Conference, Quantum5 invited Martijn Lampert, Co-Founder and Research Director at Glocalities; Michael Sheldrick, Chief Policy and Government Relations Officer at Global Citizen; Dr. Maha Hosain Aziz Professor, Author & Cartoonist in Global Risk & Prediction and Madge Thomas, Lead Private Sector, Innovative Finance and Philanthropy Partnerships at UNICEF to discuss how digital technologies can encourage greater trust, better decisions and achieve deeper and broader participation in democratic processes.
Over the past 25 years, we have lived through a revolution – created by the birth of the world wide web and the rapid development of digital technology. This digital revolution has disrupted old certainties and challenged representative democracy at its very heart. With social media sources such as Twitter, blogs, and 24/7 media, the citizen has more sources of information than ever before, yet citizens appear to operate at a considerable distance from their representatives and appear 'disengaged' from democratic processes.
The panel discussed their views of Global Democracy and what needs to be done in 2021 and beyond to encourage greater participation in politics from the widest possible range of people.
You can watch a full clip of the conference down below.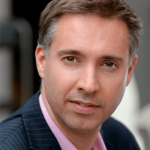 Martijn Lampert
This email address is being protected from spambots. You need JavaScript enabled to view it.
+31 20 589 83 70