Glocalities Officially Took Off With a Roaring Launch Event!
At the beginning of this year, research agency Motivaction announced that her international activities through the Glocalities model and program would be transferred into a separate company.
The activities that grew to apr. €2 mln revenue in the last year have resulted in a team of 12 research consultants and data-analysts. Glocalities CEO Pieter Paul Verheggen: "Under the umbrella of Motivaction, the development of the Glocalities research program has accelerated. We are now able to support marketeers in over 30 countries. With the latest World of Glocalities software application, marketeers have access to the Glocalities consumer database with real-time information about consumer profiles, trends, persuasion tactics and more. For sustainable growth, it is of great importance that Glocalities can develop her own strategy with dedicated management."
An announcement like this most certainly requires a proper celebration: on Thursday, March 7th, 2019, the new Glocalities organization was launched through a festive event at the A'DAM Toren.

During the event, Nanne Bos (ING's Head of Global Brand Management), Richard Wolffe (CEO ThinkShift NYC) and Magda Nowrot (Head of Strategic Information Department at Heineken) presented how Glocalities contributed to their international marketing and branding strategies. Glocalities research director Martijn Lampert spoke about his TEDx talk on activating millennial changemakers for the Sustainable Development Goals and explained the meaning of the Glocalities brand name: "Glocalities discovers and taps into the ties between the global and the local level. It is probably the first marketing tool that enables global marketeers and brand managers to understand cultural differences of consumers around the globe, with the help of an integrated online tool that helps them to develop tailor-made and country-specific marketing campaigns. It has never been so easy to step into the shoes of your audiences or to understand the consumers of your competitive brand."
After the opening session the party took off in the presence of clients, business partners and current and former employees of both Glocalities and sister company Motivaction. The 12 Glocalities Team members presented themselves in a video, talking about the passion that drives their work and about what they like the most about working at Glocalities.
Motivaction and Glocalities are both members of Motivaction International Holding
More information about Glocalities: Pieter Paul Verheggen (CEO) and Martijn Lampert (Research director)
---
Author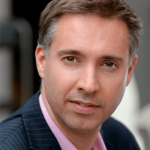 Martijn Lampert
This email address is being protected from spambots. You need JavaScript enabled to view it.
+31 20 589 83 70