Global Solidarity in the Danger Zone: A Call to Action
As world leaders convene for the 2023 UN General Assembly with the theme "Reigniting Global Solidarity," a sobering report warns that global solidarity is on a dangerous decline. The report presents for the first time a tool designed to measure global solidarity. It provides the world with ways to strengthen solidarity and weather the future storms.
The Global Solidarity Report 2023, supported by prominent organizations like the Bill & Melinda Gates Foundation, Global Citizen and Goals House presents a grim assessment of our current global community.
Solidarity has three underlying drivers: Identities, Institutions, and Impacts. The identity drivers were measured by the international research agency Glocalities in an online survey of 21,290 people in 21 countries representing 53% of the world's population and including every continent.
Main findings from the Global Solidarity Report:
The global public demonstrates substantial support for solidarity and wants to collaborate to solve collective action problems. 
But institutions are not strong enough to deliver – they need more funding and better representivity.
Crucially, the impacts of global cooperation are at their most worrying in decades, from health to CO2 emissions, from conflict deaths to economic convergence.
To reverse this worrying trend, the report outlines three Calls to Action:
Combatting Climate Change
Pandemic Preparedness
Pooling Resources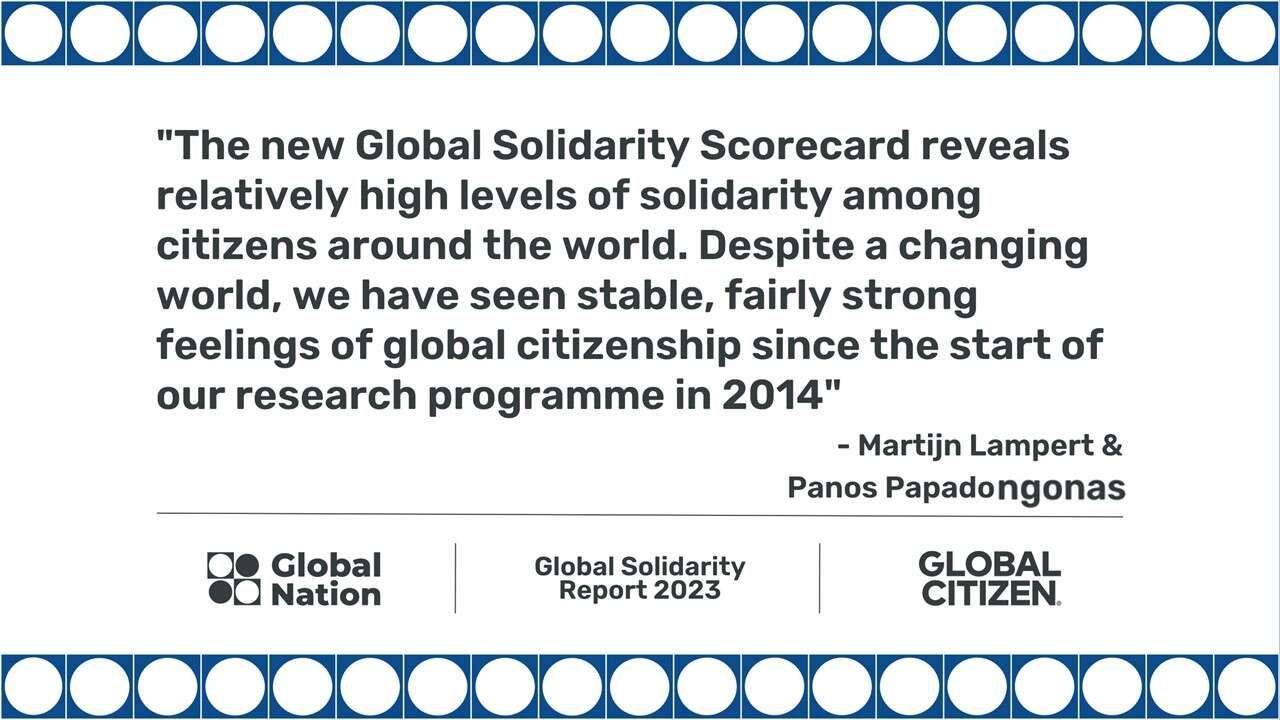 In a world at a critical crossroads, the Global Solidarity Report 2023 serves as a clarion call for a renewed commitment to global solidarity, as the consequences of inaction could be catastrophic. It is a reminder that while we may be in the "danger zone," we still have the power to chart a course towards a better future through cooperation and shared purpose.
Numerous experts from around the world have contributed and reacted to the report.
To read their reactions and the Global Solidarity Report visit: https://globalnation.world/global-solidarity-report/