Creating Change in the Banking Sector from a Values Perspective
Research Director Martijn Lampert was interviewed on VoiceAmerica Talk Radio Network. "If you don't understand people, you don't understand business" (Simon Sinek) and this is certainly true for the banking sector. On the 9th of June, Glocalities Research Director, Martijn Lampert, was interviewed by Linda Ryan of VoiceAmerica Radio on the role of research in adding a values-based, human-centric dimension to the banking sector.
Martijn Lampert (1973) is an expert in social intelligence. He helps organizations resonate with their target audience(s) within the framework of a changing socio-cultural context. In this interview, Martijn offers insights into how people from around the globe think about the role of banking in a society based on recent Glocalities data. Interestingly, views do not only differences between the affluent and less affluent, but there is also a value divide within the affluent minority: social rich vs self-oriented rich. Listen to the interview below to find out more about this divide and how it can be turned into an opportunity for increasing the banking sector's societal contribution.
---
Author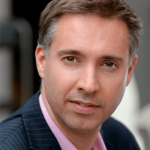 Martijn Lampert
This email address is being protected from spambots. You need JavaScript enabled to view it.
+31 20 589 83 70