PERIOD STIGMA:
Glocalities Work with P&G's Brand Always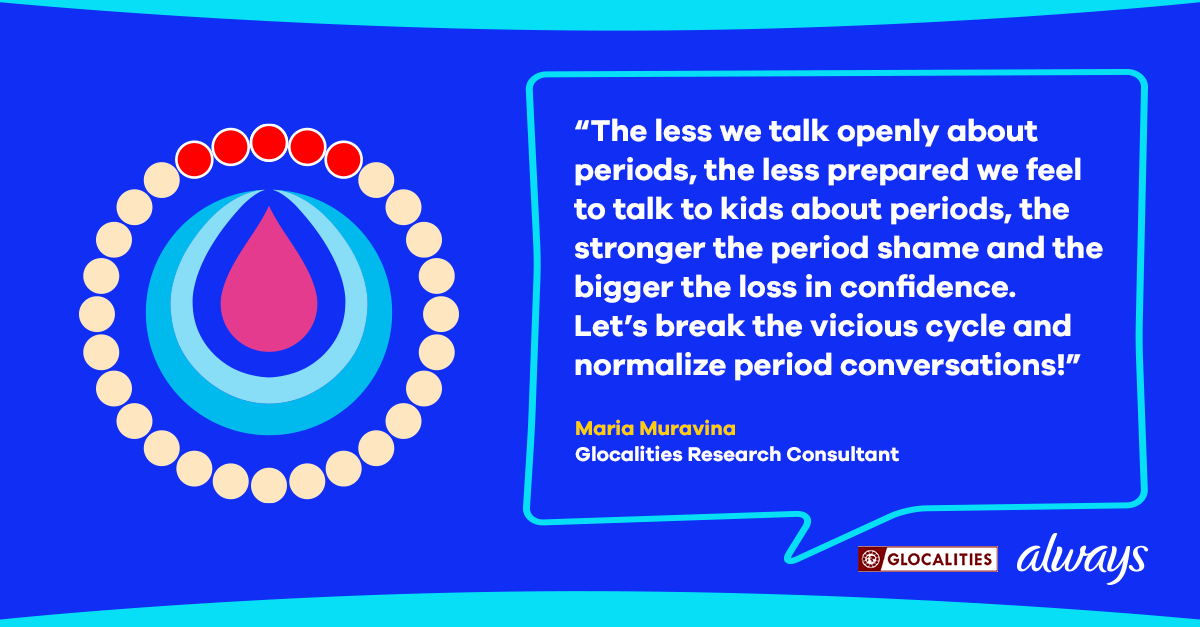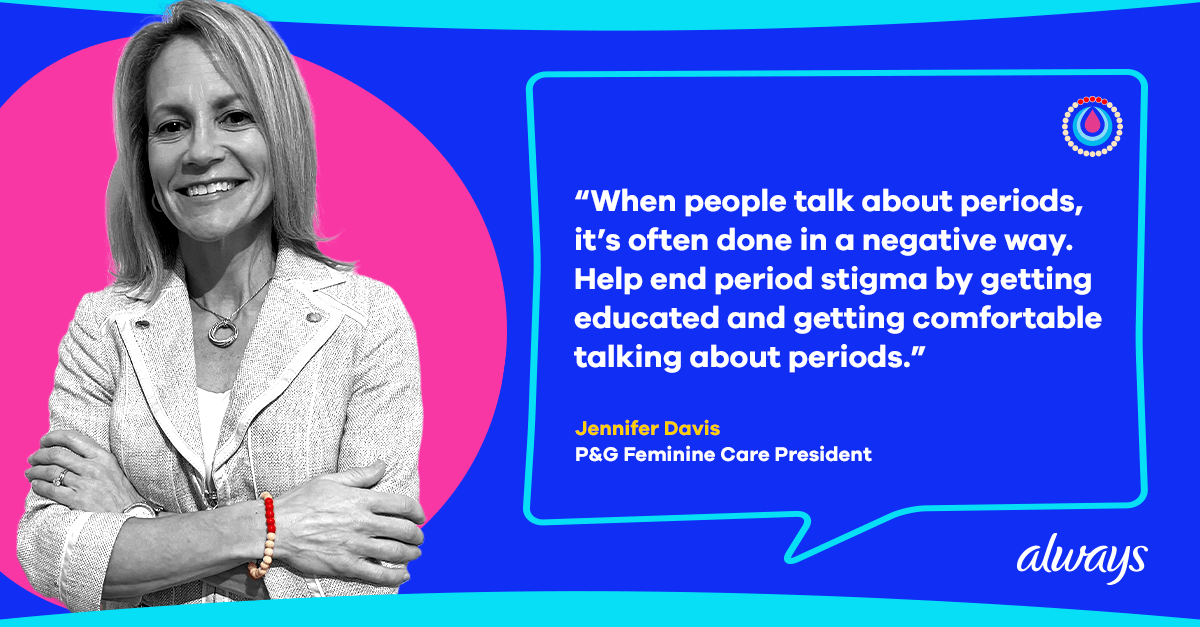 About the Research
Leveraging research conducted by Glocalities, Always has released four reports:
Its Time To Talk: Menstrual Health & Hygiene in the UK
Its Time To Talk: Menstrual Health & Hygiene in the U.S.
Its Time To Talk: Menstrual Health & Hygiene in Canada
Period Stigma Around the World Today 
The Glocalities research came from several studies that include responses from just under 40,000 (39,127) people worldwide. The research looked at:
What is the current state of period stigma (period shame, periods as a taboo subject, negative period-related attitudes and behaviours)
Ideas on how to tackle period stigma 
Communication guidelines on how to convince key societal groups to start talking openly about periods
Level of preparedness from adults to talk to children about periods
Impact of COVID19 pandemic on period stigma and period poverty
Gender stereotypes 
…and more
Note: the reports below are an accumulation of Glocalities research, as well as research from other independent agencies.
Some of the key learnings
Period shame is still rife across the world. 41% of women report feelings of period shame, and 59% have tried to hide the fact that they're on a period (in UK, US, Canada, Russia, China).
Periods are seen as taboo: People often feel more comfortable talking about family problems, sex, politics and STDs – than they do about periods.
Talking more openly helps: The research showed that in households where people talk openly about periods, young women feel more supported, confident and less awkward, than in households that do not talk openly about periods. Furthermore, the higher the % of society that talks openly about periods, the more prepared people feel to talk about periods with their children.
Helping people understand the benefits of talking about periods by tapping into their values. For example, you can explain to mothers with more traditional values how open conversations about periods can have positive health impacts - their child will understand their cycle better and feel more comfortable seeking help when needed.
To learn more, read the reports:
About Glocalities
Glocalities is an Amsterdam-based international research agency that specializes in values and lifestyle research all over the world. The Glocalities research program, that started in 2014, now covers 32 countries based on interviews with more than 228,758 people. NGOs, national and international companies and the public sector use Glocalities insights to connect with audiences, based on a deep understanding of trends, people and cultures. Glocalities research consultants provide international insights through the online World of Glocalities Insights Solution and in workshops, presentations and reports. Free reports on a multitude of topics such as the Sustainable Development Goals are available on our website. For more information, visit glocalities.com.
About Always
Always®, the world's leader in menstrual protection, offers a wide range of pads, wipes and liners designed to fit different body types, period flows and preferences. For over 35 years, Always has been empowering millions of girls globally through puberty and confidence education, providing products to those in need and tackling societal barriers to their confidence through the Always #LikeAGirl movement. Together, Always believes we can create a world where neither periods nor gender get in the way of young people reaching their full potential. This is part of Always and P&G's ongoing commitment to gender equality and is among the efforts to deliver 2,021 Acts of Good in 2021.
About Plan International
Plan International is a global organization dedicated to advancing children's rights and equality for girls, providing the support and resources that are unique to their needs and the needs of their communities, ensuring they achieve their full potential with dignity, opportunity and safety. Founded in 1937, Plan is an independent development and humanitarian organization that is active in more than 80 countries.
About WASH United & Menstrual Hygiene Day
Initiated and coordinated by Berlin-based non-profit WASH United, Menstrual Hygiene Day (MH Day) on 28 May is a global campaign that brings together individuals and more than 700 organizations to catalyze awareness, advocacy and action towards a world where no one is held back because they menstruates. Since 2014, MH Day has reached more than 1 billion people with positive stigma-busting messaging around menstruation.
Want to know more?
Get in touch with us!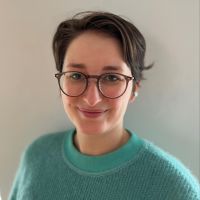 Mash Muravina
This email address is being protected from spambots. You need JavaScript enabled to view it.