Values Segmentation - Our Research Methodology for Customer Segmentation Models
Global Survey
In each country, in the latest wave, an average of 2,000 people between the ages of 18 and 70 years participated in the first phase of the online survey. The survey was recorded via the XS platform of our sister company Motivaction. After completing the first phase of the survey, we invited the participants to take part in a second online survey, in which an average of 1,000 people per country participated. The respondents could complete the survey via desktop computers, laptops, tablets and smartphones and received an incentive for participating.
Prior to the data collection, we set quotas for age, education, gender, and region, based on census data per country. We weighed the Glocalities samples based on national census figures.
The questionnaire was conducted in 23 languages and was translated by professional translators from the English source questionnaire. These translations were checked by other translators. The translations of vital parts of the study were translated back into English by other, independent translators. Glocalities researchers then compared these reverse translations to the original English questionnaire to ensure translation accuracy. The translations were improved, where necessary.
We conduct our surveys according to the highest research standards that include IP checks and strict control mechanisms for fraudulent respondents. We conform to the highest scientific standards for cross-cultural values research by applying score standardization to correct for cultural bias and individual answering patterns (as people from specific countries tend to agree/disagree more often with statements in general).
In four separate waves of fieldwork, Glocalities surveyed over 230,000 respondents in 32 countries and 23 languages. Taken together, this selection of countries contains 63% of the world population and represents 83% of the world economy. The global survey is held every year to ensure continuity of insights and facilitate the continuous development of the program.
Variables in Our Database
In the Glocalities world survey, we have built on the latest insights from marketing research, social psychology, and cross-cultural values studies.
Our database consists of over 2,500 independent variables.
Click on the categories below to discover the data we have available.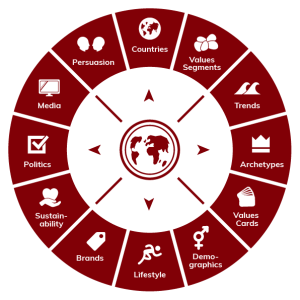 Segmentation Model
Glocalities offers a deep understanding of values, cultures, preferences and consumer behavior around the globe. The Glocalities survey provides a sound basis to construct the robust and sophisticated Glocalities segmentation model. It is based on the premise that people's behavior and opinions are shaped by value orientations that are deeply embedded within persons and society. The Glocalities typology enables organizations to align with consumers more effectively and resonate with their basic values drivers.
Motivaction has over 20 years of experience with values based segmentation in the Netherlands and the world. In preparation of the first Glocalities world survey completed in 2014, we conducted international qualitative research and consulted cross-cultural experts to identify a list of key items and formulate hypotheses. We used previously conducted international research to develop a hypothetical global segmentation model. We then tested and established the Glocalities values segmentation model in 2014 based on the data of the first wave of Glocalities fieldwork. We constructed the Glocalities values segmentation model with latent class analysis, which resulted in 5 values segments. In 2018 we evaluated and updated the Glocalities segmentation model based on the 3 waves of fieldwork since the model was first established in 2014.
The Glocalities values segmentation model distinguishes 5 values segments generated by cluster analysis (latent class analysis) on a set of values statements in the survey. We plot the five segments on two axes. The horizontal axis shows the extent to which people are open to change and innovation, while the vertical axis shows the extent to which people value freedom and independence.
We have identified the following segments among the world population (click on the segments for more info):
Glocalities segments worldwide
Socializers: sociability seekers who love entertainment, freedom & family values
Socializers compose 15% of our Glocalities respondents. Similarly to conservatives, socializers also have a developed sense of belonging and traditionality. However, they are not afraid to take risks and are open to making new decisions in life, even if these will not prove to be beneficial in the long run.
Creatives: open-minded idealists who adhere to self-development & culture
Creatives represent 22% of our Glocalities population. They are people with a strong focus on freedom and exploration. That makes them open-minded idealists, who believe in social change.
Achievers: entrepreneurial networkers, who focus on family and community life
Achievers represent 19% of our Glocalities respondents. They seek a balance between belonging and traditionality on the one hand and social change on the other hand.
Challengers: competitive careerists, fascinated by money, taking risks & adventure
Challengers represent 23% of our Glocalities population. They have a dominant attitude and feel comfortable when they are in control of their life and surroundings. They have a strong desire for power and, just like the achievers, they are willing to work hard to succeed.
Conservatives: family oriented people who value traditions, etiquette & an organized life
About 21% of the general population between 18 and 65 years in the 20 countries in our survey belongs to this category. Conservatives prefer to lead a structured and predictable life and they cherish a sense of belonging.